It's hard to believe it's already time to reveal the annual Chanterelle Photography holiday card, it feels like we just revealed the 2015 Sherlock Holmes card!  For 2016, I wanted to do something completely different from anything we've done before, so we went ANIMATED (okay technically "illustrated", but you get the idea), so here is "Going UP"!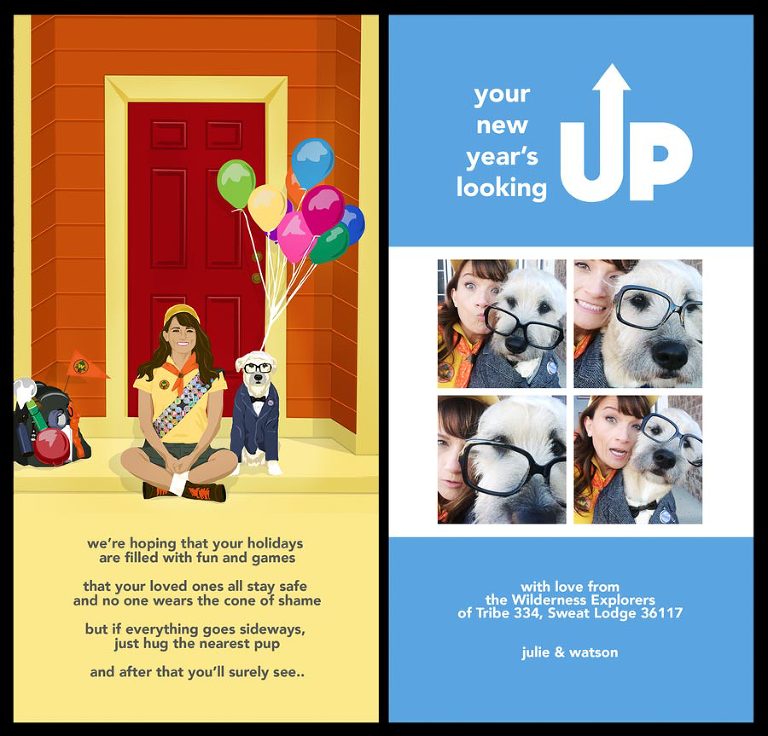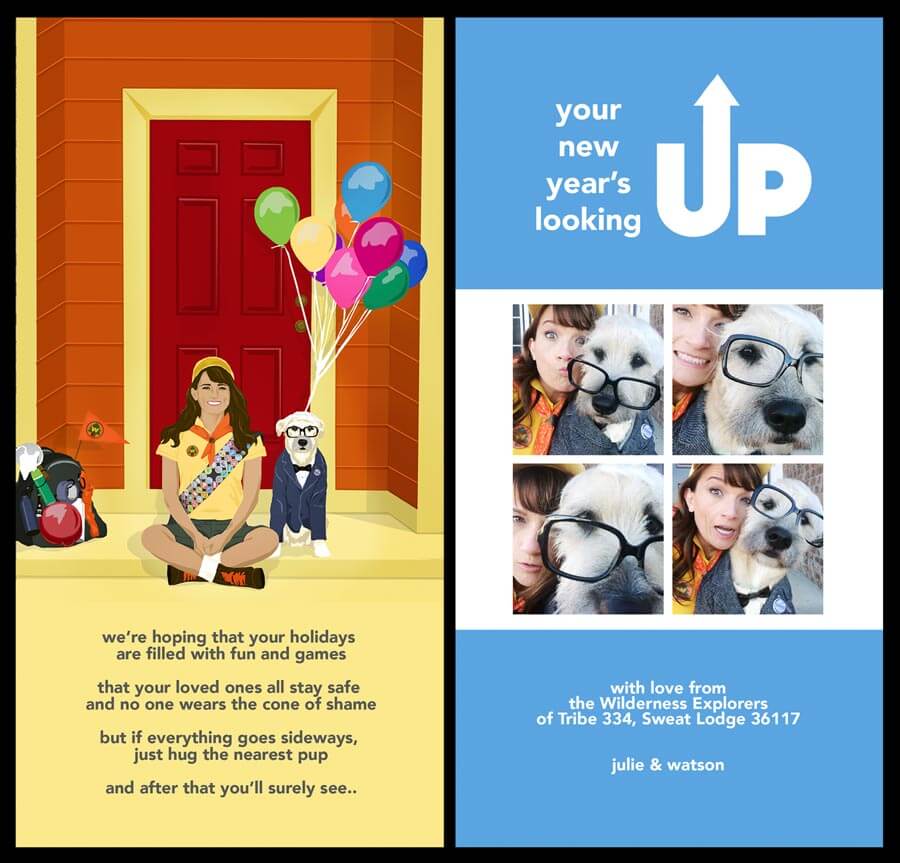 Choosing the Disney/Pixar movie "Up" as inspiration was a bit of a risk.  I try to choose themes that are easily recognizable by most people, but occasionally I have an idea that goes with a very specific theme.  When you get too specific and/or too contemporary, you run the risk that many people may not "get" the reference, simply because they haven't seen the original – like with our 2013 "Hunger Games" card.   I knew that even though "Up" came out in 2009, it was contemporary enough that some folks (especially those without kids) might not have seen the movie.  But Watson naturally has eyebrows just like the character Carl Fredricksen, so who was I to go against what nature was telling me? 😉
The animated/illustrated front of the card required 2 days of Photoshop work, mostly because I'm a photographer, not an illustrator.  So I had no idea how to make this happen, and had to teach myself (you really can learn just about anything online now!).  It involved drawing over the original image (which was shot on my front porch), simplifying it into into areas of light and shadow, and making my house look more like Carl and Ellie's house.  It just took A LOT of small steps to get there.  I probably should have just paid someone to do it, but alas, I am ridiculously stubborn and a glutton for punishment.
Our outfits and props came together relatively quickly.  Watson's jacket and my shirt came from Target, and his glasses came from Dollar Tree.  Watson's tiny white toupee and my hat came from Amazon.  The balloons came from Walmart, and were tied to Watson's harness (fed through a hole I made in the back center seam of his jacket).  We had almost everything else at home already – I tapped into my crafty stash to make the Wilderness Explorer flag, the sash of patches, Watson's bow tie, and the bottle cap "Ellie badge" to pin onto Watson's jacket.  I scrounged around my house for props to go on what would be Russell's backpack, and discovered when you don't have a butterfly net, a Thai tea strainer looks basically the same, haha!  I had planned to wear the backpack in the pictures, but after taking a few test shots, I realized you couldn't see enough of it for it to translate well, and it would be more effective set off to one side.
I'm sure the neighbors that saw us setting up the shoot thought we were nuts – imagine looking over at your neighbor's house, seeing her dressed up like the Disney/Pixar version of a boy scout, and her dog in a suit jacket tied to a bunch of a balloons. 😮  Thankfully no one tried to commit me to a mental institution.  Let's hope it stays that way in 2017.  🙂
Thanks for a great 2016, and Happy New Year!